This post may contain affiliate links. As an Amazon Associate, I earn from qualifying purchases. Please read my disclosure.

Baking bread from scratch doesn't have to be intimidating! Even beginners can make this fluffy buckwheat bread. Buckwheat flour gives this hearty loaf a nutrient boost and a nutty flavor! It's naturally vegan with a gluten-free option!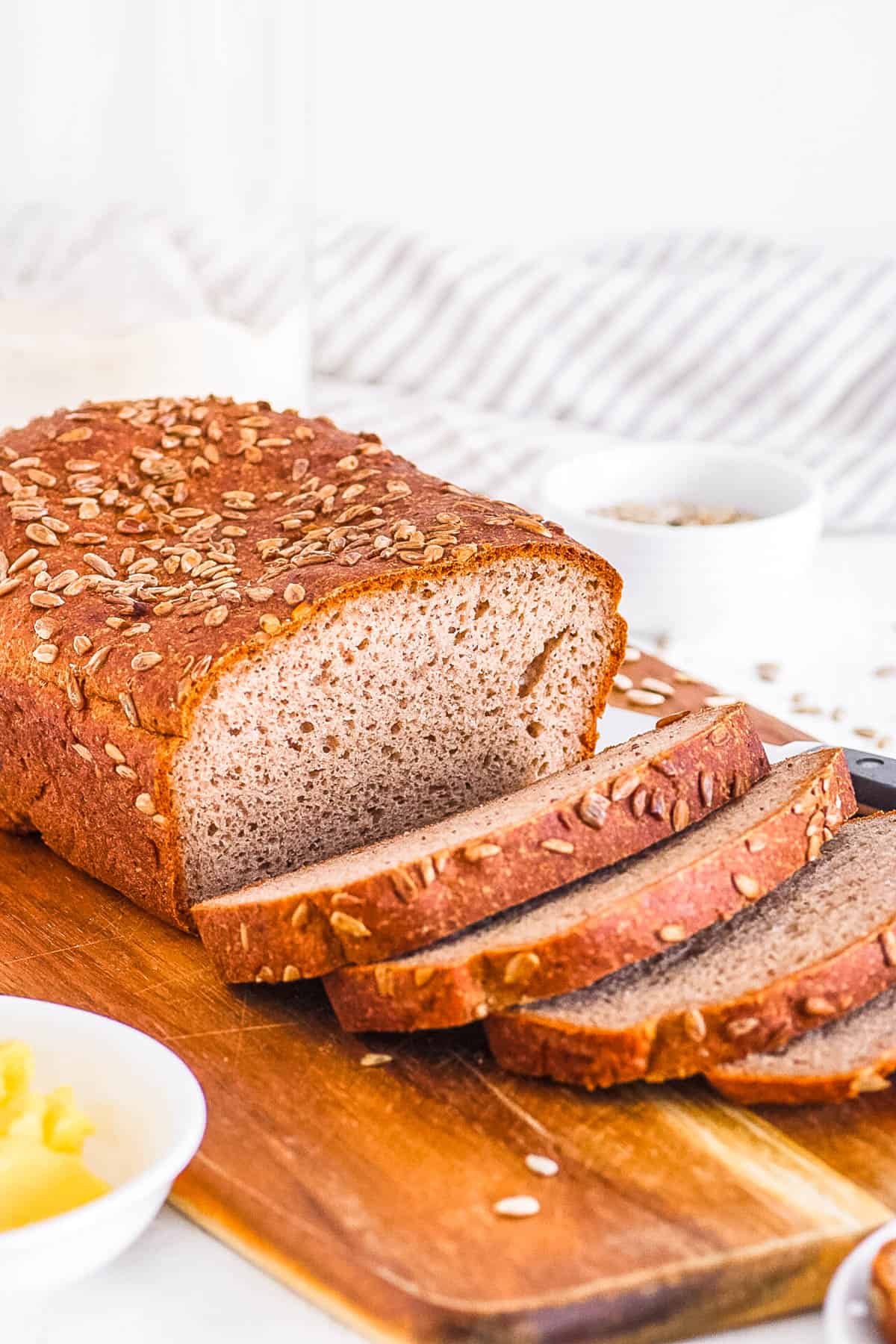 Nothing rivals the good vibes of homemade bread. It smells fantastic, tastes worlds better than store-bought, and it's better for you! If yeast bread makes you nervous, don't sweat it. This buckwheat bread recipe takes 10 minutes to prep, and you don't even have to knead it.
Whole buckwheat is a nutrient-packed, ancient grain like seed – ground into flour and used in buckwheat pancakes, cookies, noodles, and even buckwheat flatbread. It has a nutty, slightly bitter, and earthy flavor that's fabulous in bread. Homemade buckwheat bread vanishes quickly around our house. I count myself lucky if I get a slice before it's gone!
Latest Recipe Video!
I like to enjoy my hearty slice slathered in peanut butter, topped with avocado, or covered with hummus and sliced cucumbers! When your base is buckwheat flour bread, any topping tastes delicious! It's your slice, so dress it up the way you want.
👩‍🍳 Why This Recipe Works
Made with whole grains
Buckwheat groats are a good source of protein
A no-knead easy bread recipe
Tastes similar to whole wheat bread
Real bread with no additives and preservatives
A wonderful recipe that's soft and fluffy
Kid-friendly
Easy gluten-free vegan bread option!
🥘 Ingredients
This healthy recipe for buckwheat bread is made with plant-based ingredients and no eggs!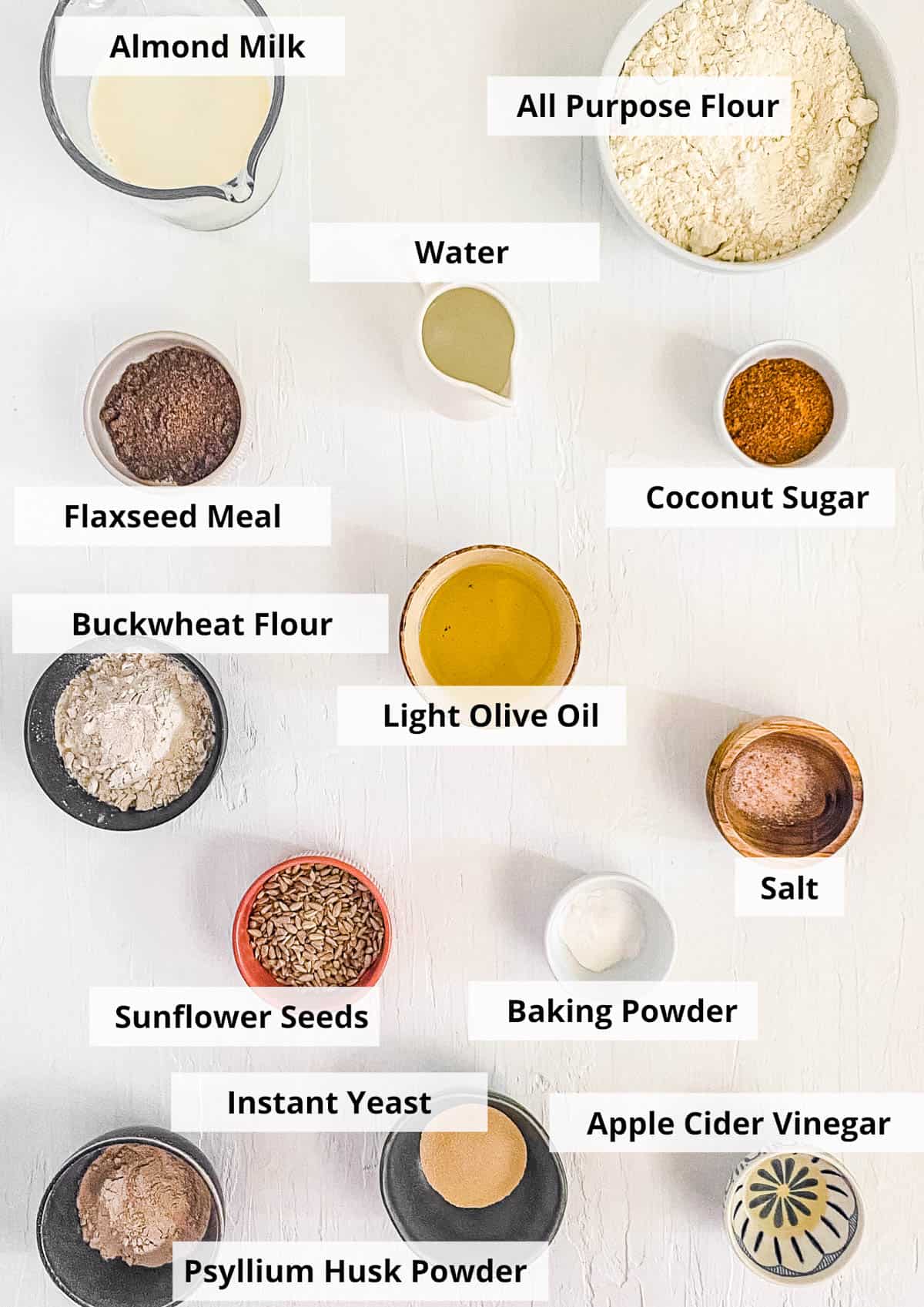 Flax Egg: Ground flaxseed and water create a "flax egg," a gelatinous mixture that behaves like an egg in baked goods. It's just like chia eggs only made with flax meal. It provides the structure for the buckwheat loaf.
All-Purpose Flour or GF Flour: For light and fluffy bread, it's important to use a combination of buckwheat and all-purpose flour or gluten free flour (to make this easy recipe gluten free). While 3 ingredient buckwheat bread is doable, it creates a very dense bread!
Hulled Buckwheat Flour: Buckwheat flour can be found at your local health food store. It's typically near the alternative flours like chickpea flour or almond flour. Homemade buckwheat flour is quick and easy to make too! Simply blend buckwheat groats in a food processor or high-speed blender until they become a fine powder.
Psyllium Husk Powder: Psyllium seed husk powder binds the bread together and enhances the texture and elasticity of the dough.
Baking Powder: For extra lift! Baking powder helps the dough rise.
Instant Yeast: Instant yeast needs less time to rise than active dry yeast. It doesn't need to rehydrate either. You can throw it right into the dry ingredients! Buckwheat bread with yeast produces a light and fluffy loaf.
Coconut Sugar: A small amount of sweetness enhances the earthy flavor of this vegan buckwheat bread. White sugar or maple syrup work fine too!
Light Olive Oil: Olive oil enhances the flavor and texture of the bread. It also gives the bread a light and soft texture.
Apple Cider Vinegar: Acid encourages the yeast to grow. This creates a better rise, improving its overall taste and texture.
Almond Milk: To moisten the dough! Regular milk is fine if you aren't on a vegan diet.
Sunflower Seeds: For a nutty and crunchy topping.
📖 Variations
Here are a few easy toppings and variations for this unbelievable buckwheat bread!
Savory Toppings: Toppings aren't just for quick breads! I like to use sunflower seeds, but pumpkin seeds, rolled oats, sesame seeds, sea salt, buckwheat flakes, and flax seeds are all great options!
Spreads: Cream cheese, nut butter, jam, hummus, mashed avocado, pesto, ricotta cheese, apple butter, and Nutella are delicious spreads to try.
Gluten-Free Buckwheat Bread Recipe: Swap out the all-purpose flour for a 1:1 gluten-free all-purpose flour that includes xanthan gum. I prefer gluten-free flour blends that contain a combination of brown rice flour and tapioca starch.
Whole Wheat Buckwheat Bread Recipe: Swap out 1/2 cup of the all-purpose flour with whole wheat flour.
Buckwheat Chia Bread: Before transferring the batter to a loaf pan, mix in three tablespoons of chia seeds. The chia seeds add texture and protein!
🔪 Instructions
Here's how to make this buckwheat flour bread recipe in just six simple steps.
Prep Loaf Tin: Line a loaf pan with baking paper. Set aside. Make Flax Egg: In a small bowl, mix the flaxseed and water. Set it aside for 5 minutes so it can thicken.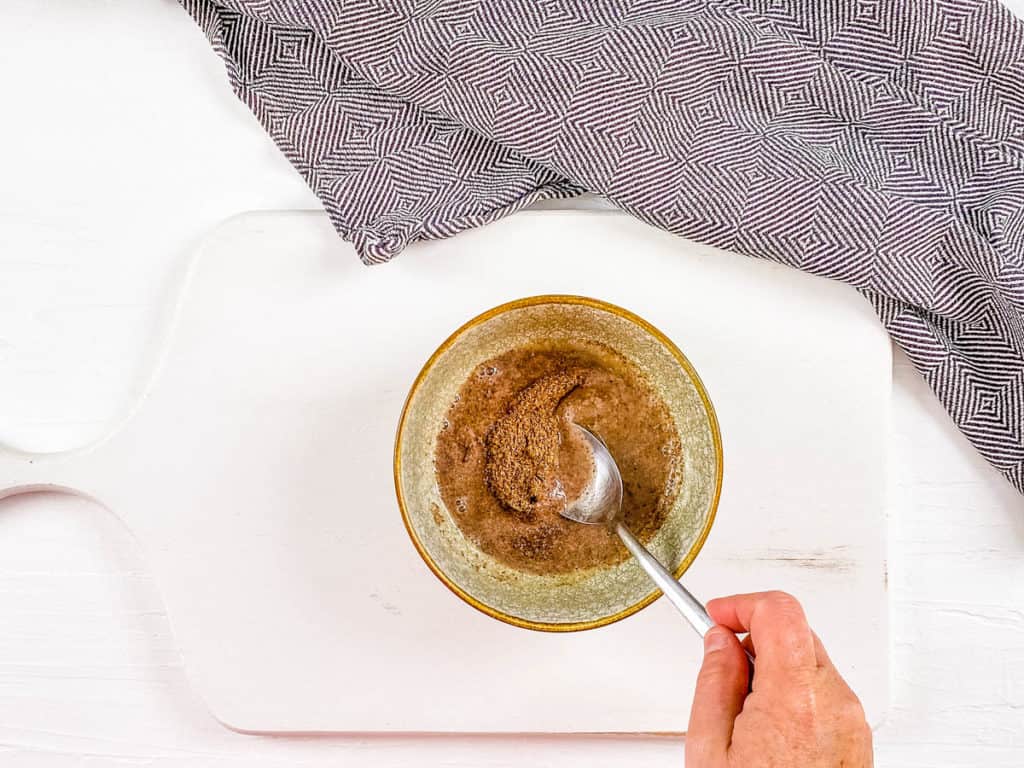 Combine Dry Ingredients: In the large mixing bowl of a stand mixer, combine the flours, psyllium husk powder, baking powder, yeast, sugar, and salt.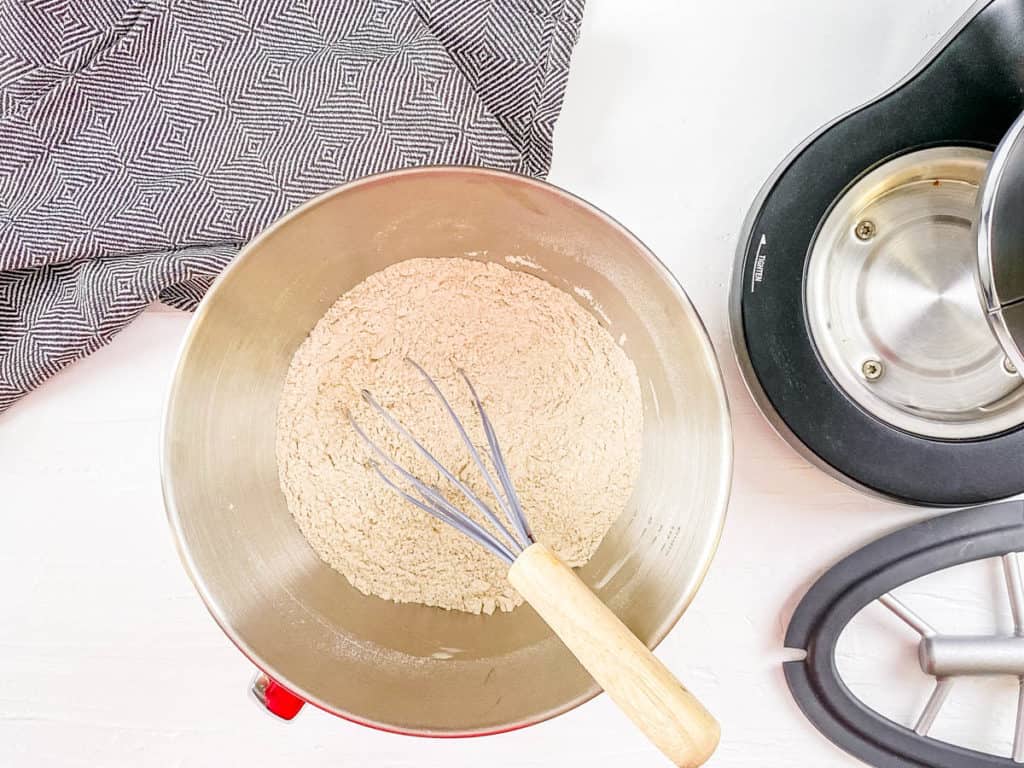 Add Wet Ingredients: Add the remaining ingredients and beat until smooth yet sticky.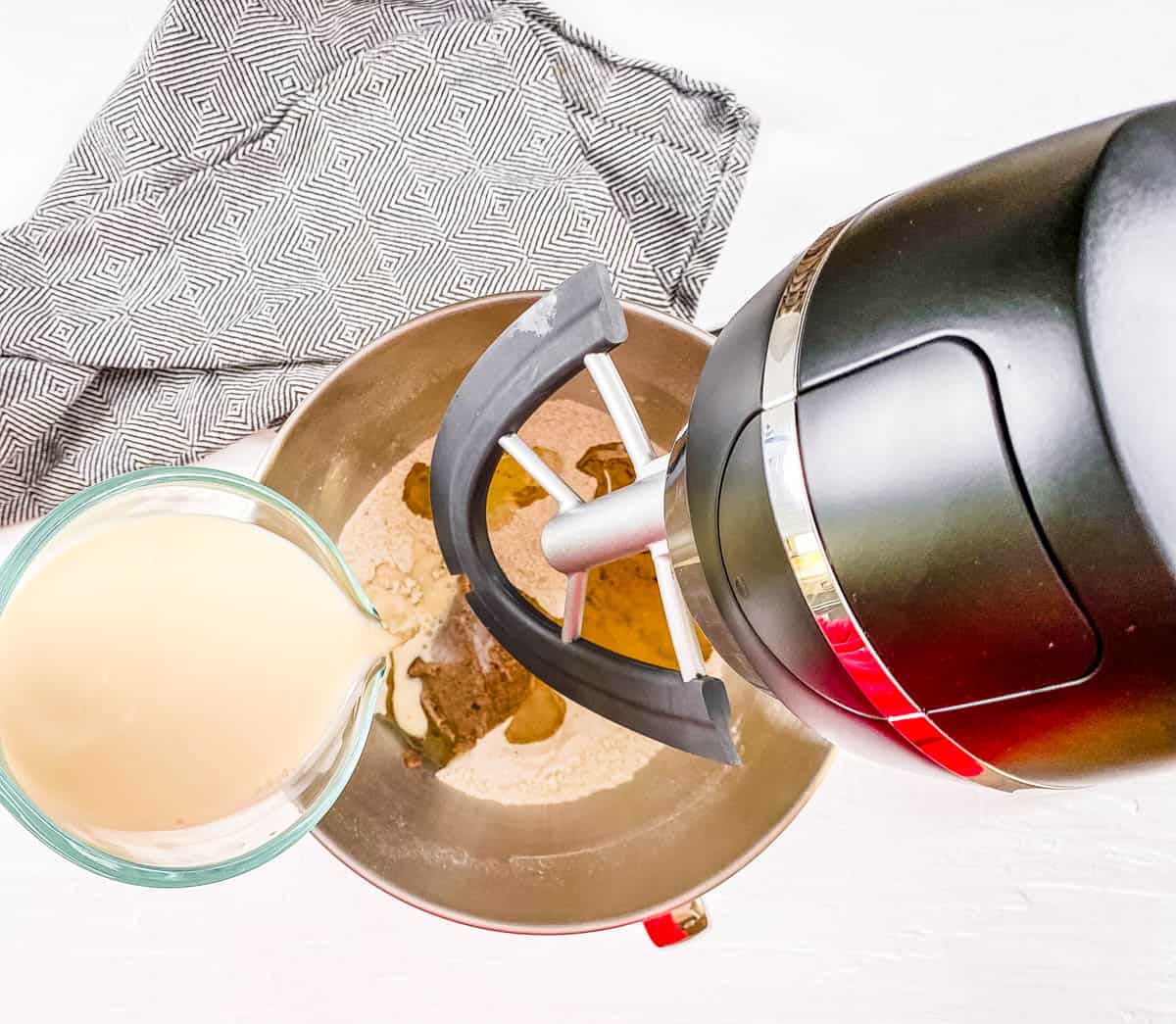 Let Bread Rise: Transfer the batter to the prepared pan and spread evenly with a wet spatula. Water will prevent the dough from sticking to the spatula. Sprinkle the seeds on top, cover, then allow it to double in size in a warm place. Meanwhile, preheat the oven to 350 degrees Fahrenheit.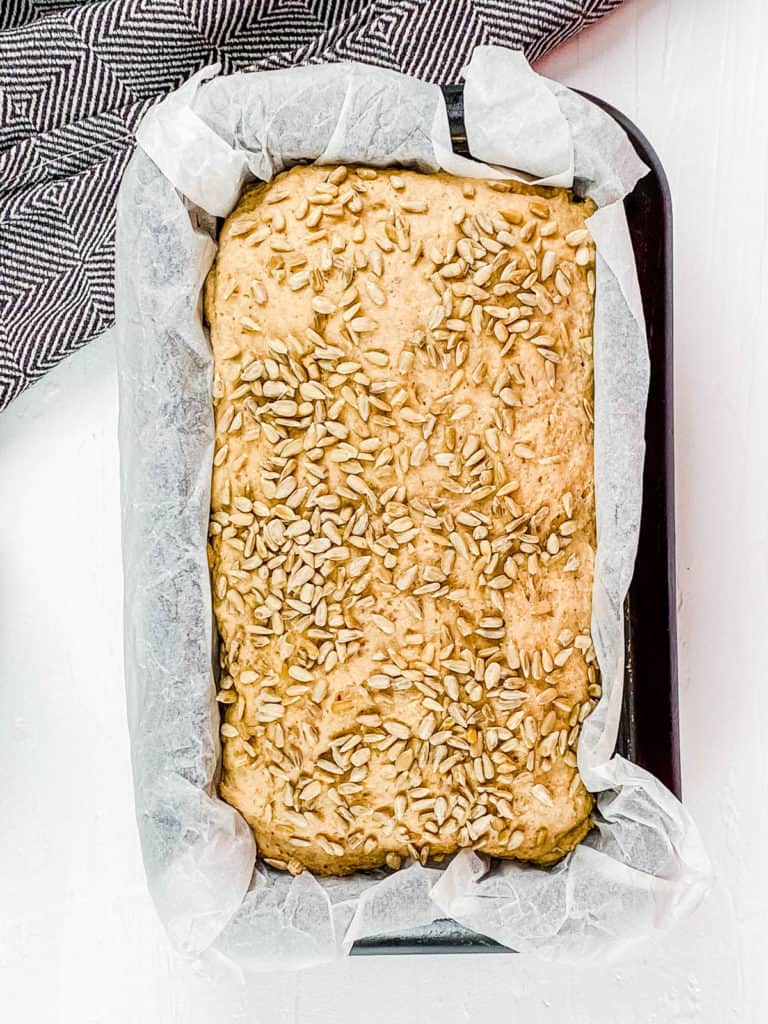 Bake Bread: Once the bread has risen, bake for 45 to 50 minutes. The bread is ready when it sounds hollow when tapped. Let the bread cool completely before cutting into thin slices.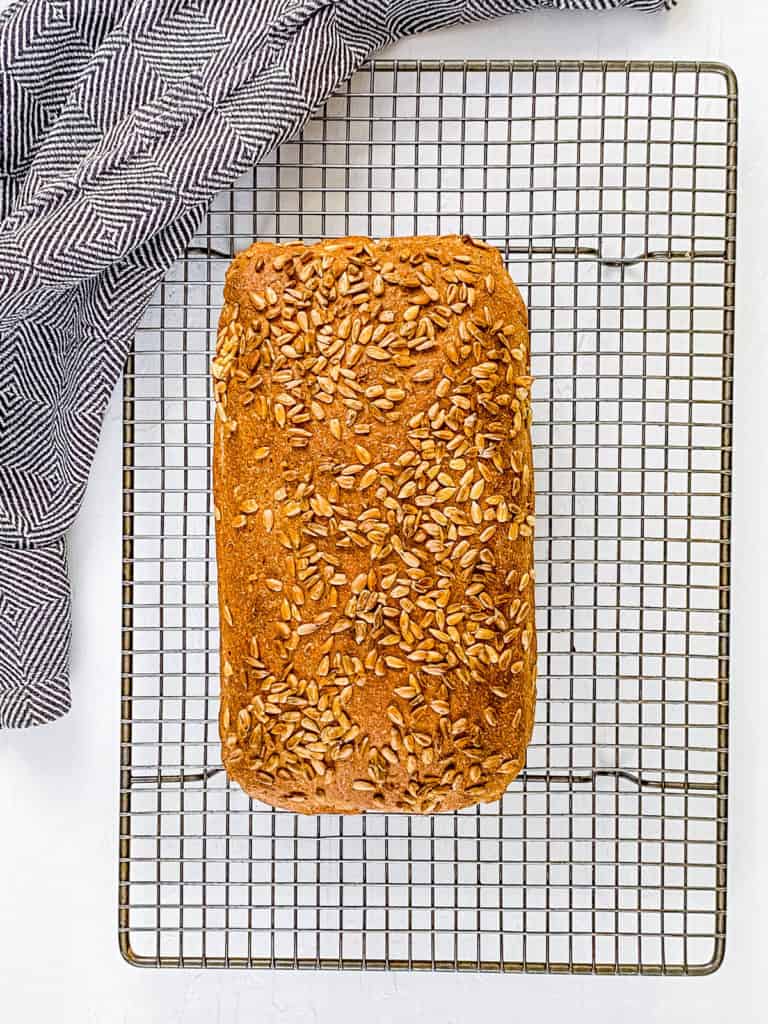 Slice And Serve: Bread will stay fresh in the refrigerator for up to 3 days in an airtight container.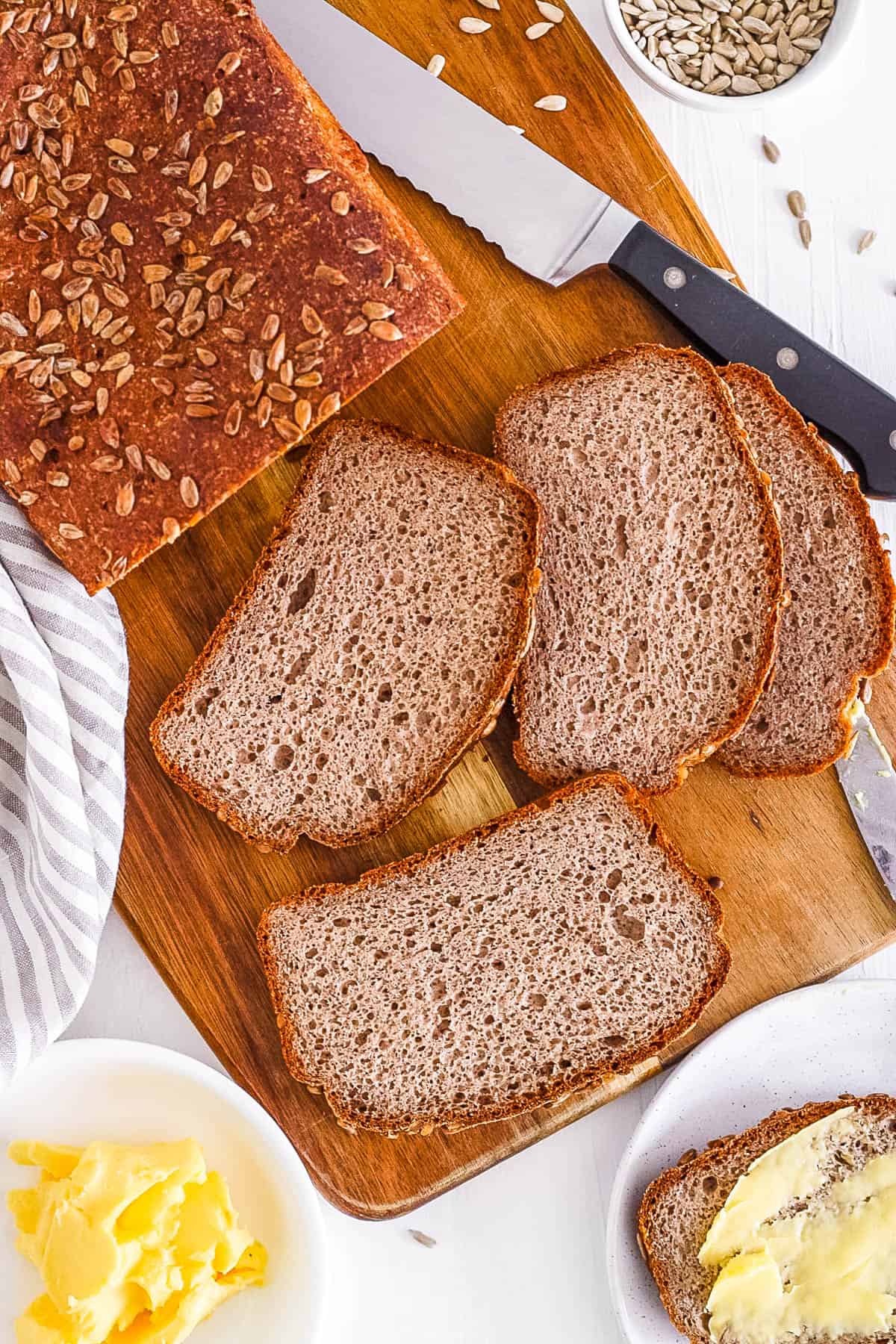 ❓ Recipe FAQs
Is buckwheat flour healthier than white flour?
Yes! Not only is it less processed, it provides more fiber, protein, and nutrients. It's an excellent source of magnesium and manganese, plus it's a complete protein that contains all eight essential amino acids! It's naturally gluten-free too.
Can I use buckwheat flour instead of bread flour?
Buckwheat flour is not a 1:1 substitution for wheat-based flour. The end result may not come out right, or be very dense. It's best to only substitute 25 percent of wheat flour with buckwheat flour.
Can celiacs eat buckwheat flour?
Yes! Despite its name, buckwheat is safe for those with celiac disease. It's not related to wheat at all and is actually a pseudocereal.
Can you freeze this easy buckwheat bread?
Sprouted buckwheat bread is perfect for freezing! Let it cool to room temperature before slicing. You don't want to freeze the loaf of bread without slicing it, since then you won't be able to defrost individual pieces as needed.
Slice the bread then wrap the entire loaf in plastic wrap. Wrap again in aluminum foil then place in a large plastic bag or airtight container. Freeze for up to 6 months.
💭 Expert Tips
Be sure to line the loaf pan with parchment paper. This will prevent the bread from sticking to the baking pan.
Buckwheat flour bread recipes are best when a combination of flour is used. Using only buckwheat flour will result in a tough and dense bread with less rise.
For best results, don't substitute the all-purpose flour with an alternative flour like oat flour or millet flour. If you want to make it gluten-free, use an all-purpose flour blend created for yeast recipes like King Arthur's brand.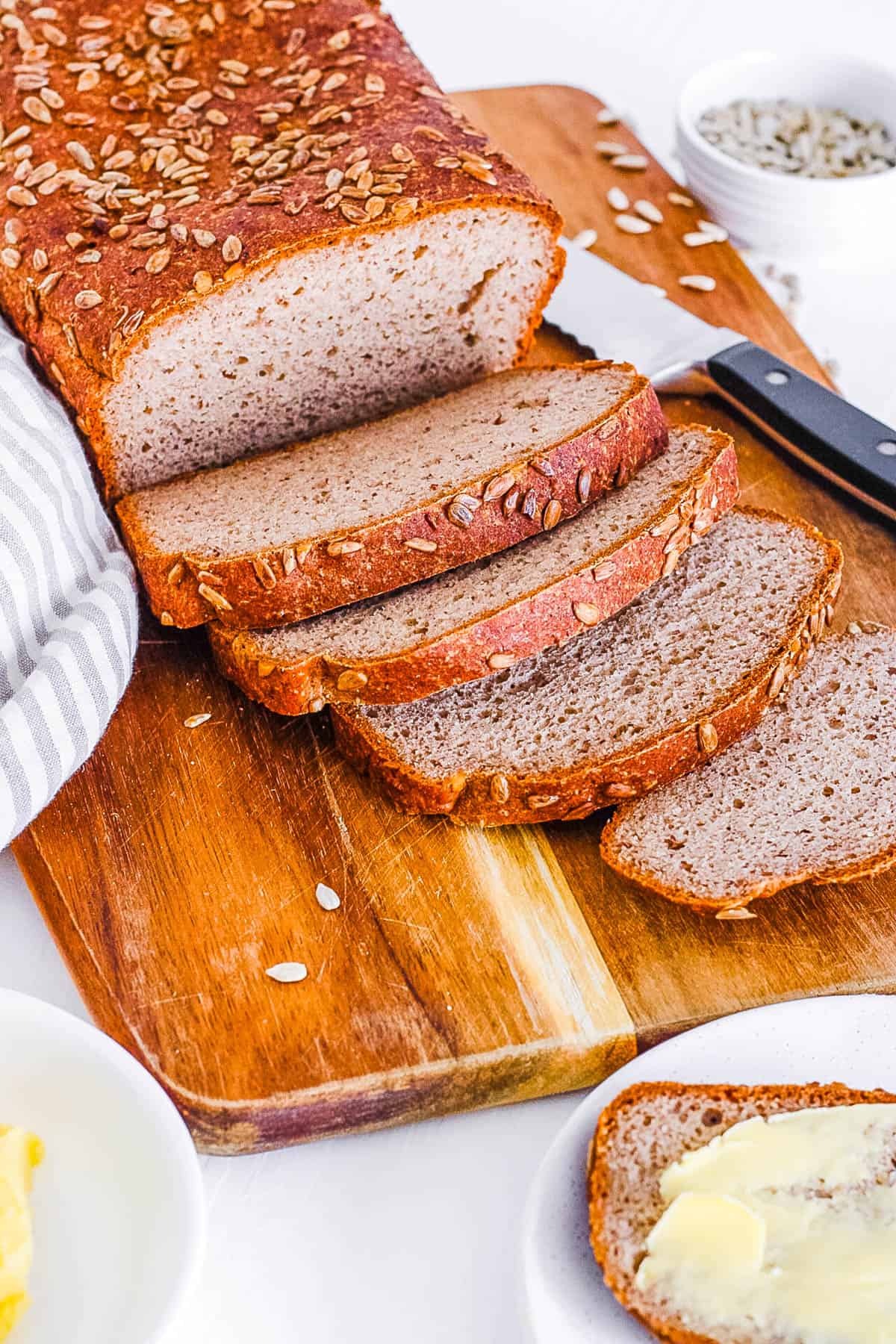 🍞 More Delicious Grain Recipes!
📋 Recipe Card
Buckwheat Bread Recipe
Baking bread from scratch doesn't have to be intimidating! Even beginners can make this fluffy buckwheat bread. Buckwheat flour gives this hearty loaf a nutrient boost and a nutty flavor! It's naturally vegan with a gluten-free option!
Servings: 16 slices
Calories: 145kcal
Sliced bread can be frozen for up to 2 months.

Using a wet spatula to smooth the dough helps to stop the dough from sticking to the spatula while spreading.

To stop the seeds from falling off the top of the loaf after cooking, gently press the seeds into the top of the loaf.

To make this bread gluten free, substitute the all purpose flour with your favorite gluten free flour blend.
Serving: 1slice | Calories: 145kcal | Carbohydrates: 19g | Protein: 3g | Fat: 7g | Saturated Fat: 1g | Polyunsaturated Fat: 1g | Monounsaturated Fat: 4g | Sodium: 109mg | Potassium: 99mg | Fiber: 5g | Sugar: 1g