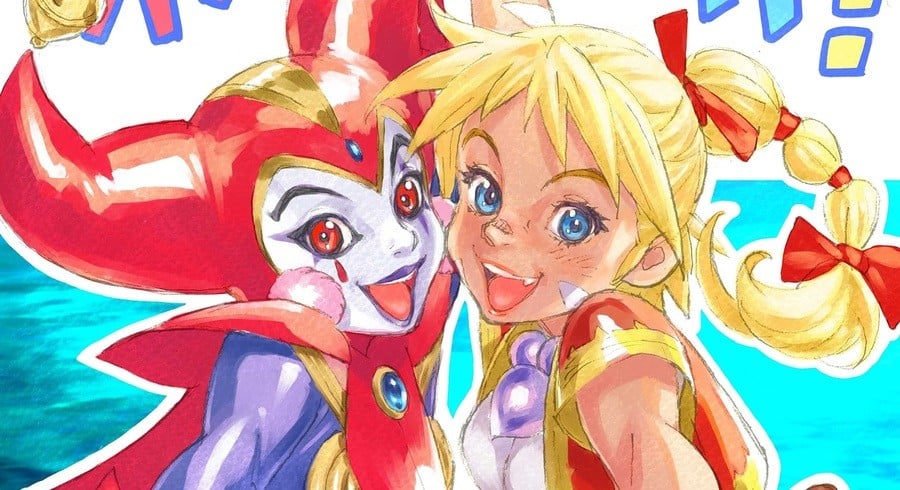 The wait is almost over! After months of rumours, and a surprise announcement during the last Nintendo Direct, Chrono Cross: The Radical Dreamers Edition will be hitting Switch consoles around the world tomorrow. This package contains the 1999 PS1 classic Chrono Cross, along with the never-before-localised sound novel Radical Dreamers.
Chrono Cross is most distinctly remembered for its stunning score – which Square Enix has been acutely aware of, promoting the many accompanying arrangements – and beautiful artwork. And to celebrate the game's upcoming release, Chrono Cross' character designer, Nobuteru Yuuki, has sketched up some gorgeous new artwork featuring two major characters from the game – the Aussie-accented thief Kid and the mysterious Franglais-speaking Harle.
Yuuki also had this to say about this upcoming remaster, which has been kindly translated by Genki_JPN on Twitter: "The disturbing state of the world is a shame, but now I would like to celebrate with all the fans who have been waiting." This remaster has been a long-time coming, and it's fantastic to see the Chrono series get some love on the Switch. Ahem, so, when's that Chrono Trigger port coming?
Square Enix had even more of Yuuki's lovely artwork to show off just a few days ago too, which shows just a handful of the game's eclectic cast of characters, with protagonist Serge cheerfully standing in the centre:
You'll be able to download Chrono Cross: The Radical Dreamers Edition tomorrow, 7th April, on your Switch. But wait! It might be worth holding off a moment or two; as noted in our review of the game, the Switch port in particular struggles with framerate issues: "Smaller areas like the Pirate Ship remained stable, but Termina and other expansive areas chugged along here and there. Battles also suffered from some minor slowdown, especially when first loading or after enemies were defeated". But don't fret; there's a day-one patch incoming, with a second patch following soon after.
Will you be picking up Chrono Cross: The Radical Dreamers Edition tomorrow? Let us know in the comments.
---
Further reading