Estimated Reading Time: 5 minutes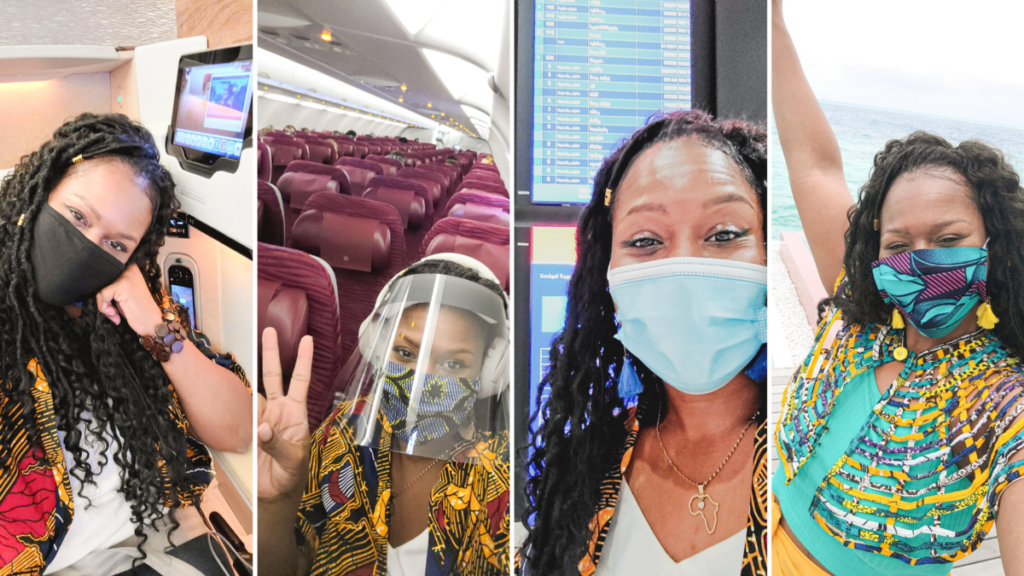 2020 is the year we couldn't make up if we tried. But rather than lament at the restrictions, I'm learning to how to adapt and adjust.
The only thing constant in life is change, and after quarantining for 4 months straight in my apartment (leaving just 3x total), I was ready to see if a social-distanced trip was possible in the middle of the Indian Ocean.
I want to put a disclaimer and say that leisure travel can be done responsibly, and with this platform, I never want to make it seem like I'm encouraging people to be reckless.
So I wanted to take you with me on my 46-hour trip from the U.S. to The Maldives, and show you how App in the Air made it 10x easier for me to prepare.
Some background, I've been using App in the Air since 2018 (see my crazy flight map below), which was my most exciting travel year, visiting 30 new countries across 5 continents, and it's amazing to even look back on my stats from the past and reminisce on all the incredible memories made.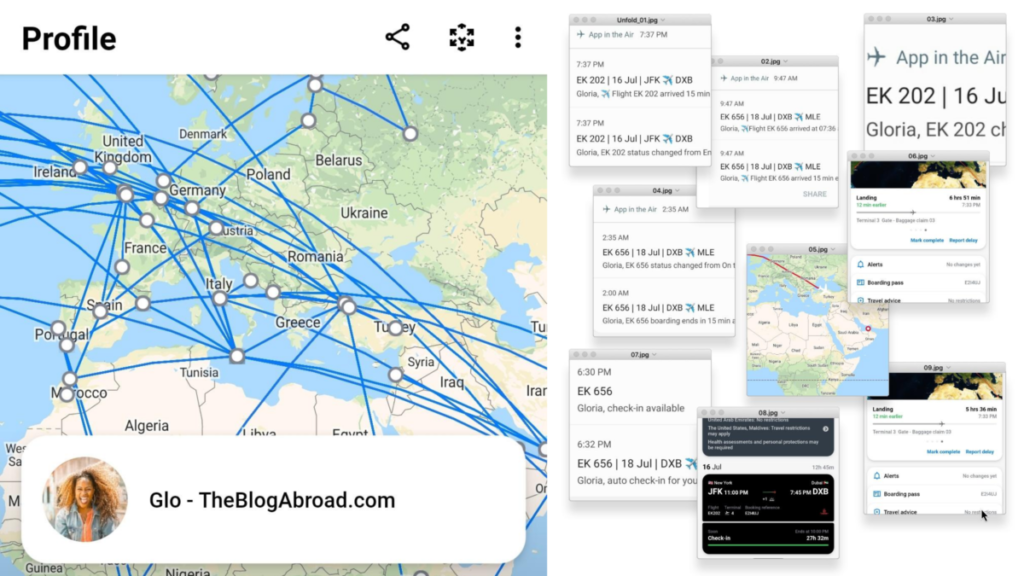 If you know anything about me and who I am as a flawed human being, then you know I'm no stranger to late flights and even showing up to the airport a whole day early.
In other words, ya girl is a hot mess express and App in the Air has helped keep me a little more organized, sending notifications for just about everything I need to know: when check-in is available, when my flight has started boarding, when the flight is scheduled to arrive early, what belt my luggage will be on, and more.
It's honestly like your own personal assistant and I've traveled so much calmer since discovering it through the recommendations of other travel bloggers.
Another aspect I love is how they use gamification to make you feel like you're "winning" at travel. Here are some of my humble brag achievements below: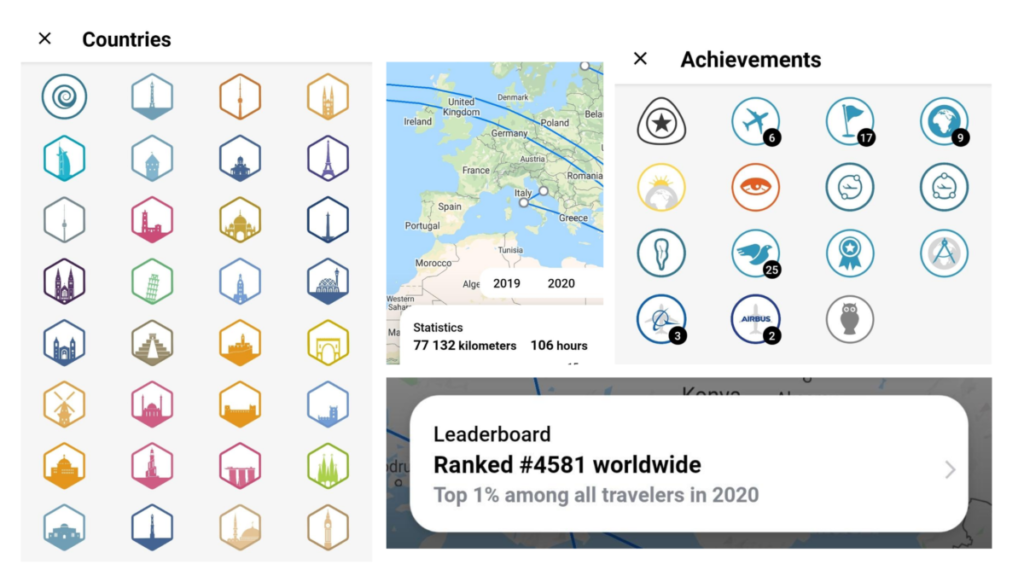 As each country is navigating new policies and regulations and making updates almost daily, the app also provides a section when a country announces new travel restrictions.
You can see my 2020 stats below, and how the number of flights I was taking dropped mid-March, as soon as the stay-at-home order was put in place.
I've now been on the road for 14 days, and have already taken 15 flights (mostly the crazy connections since many airlines aren't operating the same routes, or at least not as frequently).
I should also mention, that I obtained a negative test for SARS-CoV-2 (this is what the lab results will label it as), and I'm scheduled to get my next one this weekend.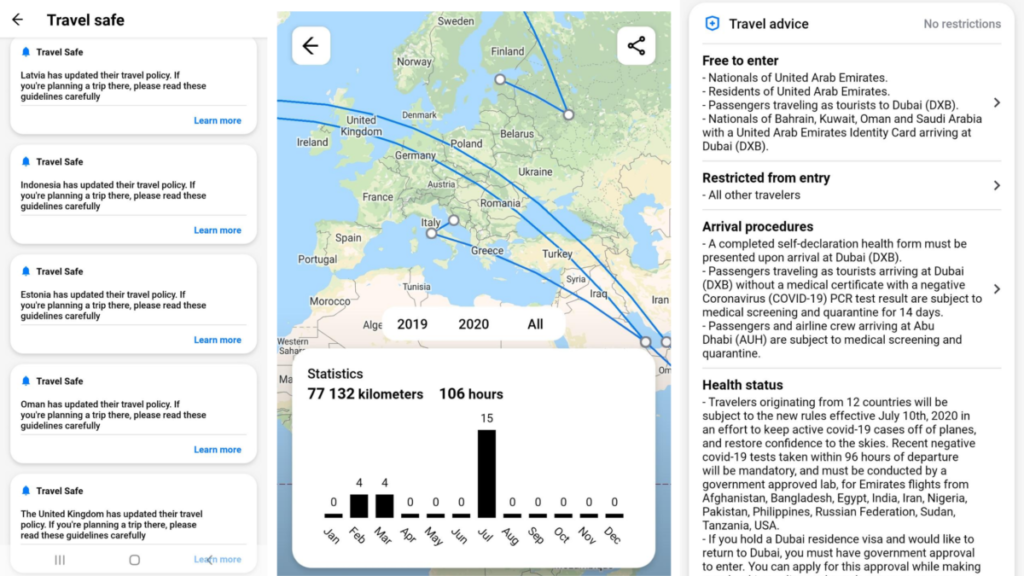 There's a lot of changes they've made to help make travel more convenient during this time, so here are the 3 standout features that are most noteworthy:
In-App Health Filters
As not all airlines and hotels have adapted to the necessary social-distancing rules and procedures, it's great to be able to have a filter that weeds out which companies mandate masks, aren't allowing middle seat bookings, and also giving free cancellations to accommodate the inevitable travel nightmares that can happen at a time like this.
Prior to Covid-19, bookings could already be searched based on which airlines provided Wi-Fi, power outlets, entertainment systems, etc.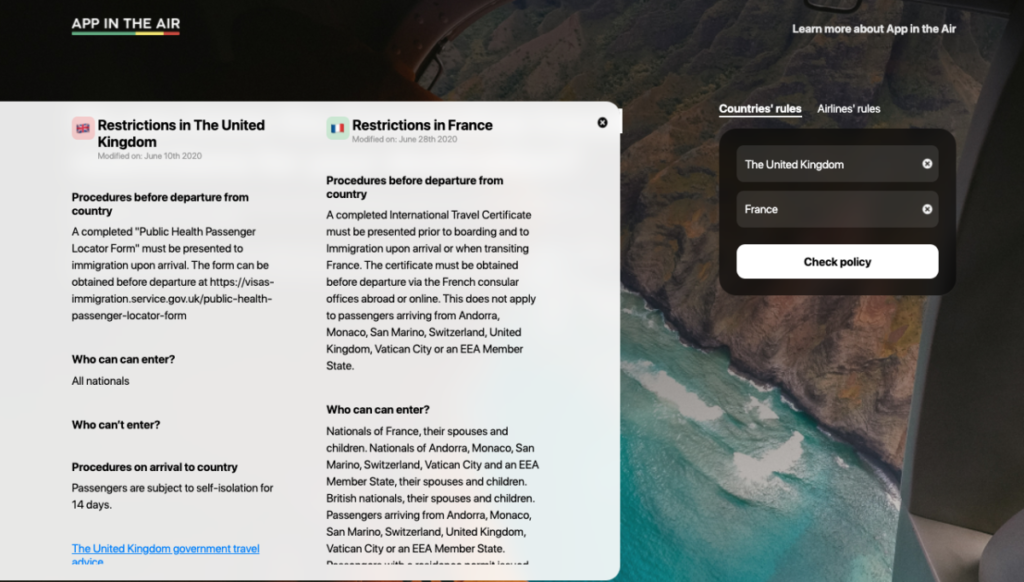 Notifications Throughout Travel Journey
To reiterate, you will receive ongoing reminders and notifications for just about everything throughout the duration of your trip.
This is super helpful when you're trying to navigate a new airport and would like to see your gate without needing to find an announcement board.
I loved this especially for letting me know when boarding starts, because I found the app to be more accurate than what the announcement boards will say, which is crazy!
Country-to-Country Travel Restrictions Guide
There's an entire landing page updated weekly that provides government links and restrictions regarding quarantine, health declarations, stats, and everything else you'd need to know.
I've found on my journey of taking 15 flights these past few days, there are so many places to find information, so I love how this app consolidates everything in one place with the rest of my travel information.
Overall, App in the Air has been such a Godsend, and even if you're taking domestic flights or want to track and organize previous flights, this is the perfect app to do so. Click To Tweet
Special thanks to App in the Air for sponsoring this post, but as always, all opinions and sexy @%$ photos are my own.
Thanks for reading! Be sure to download the app here.
xoxo,
Glo