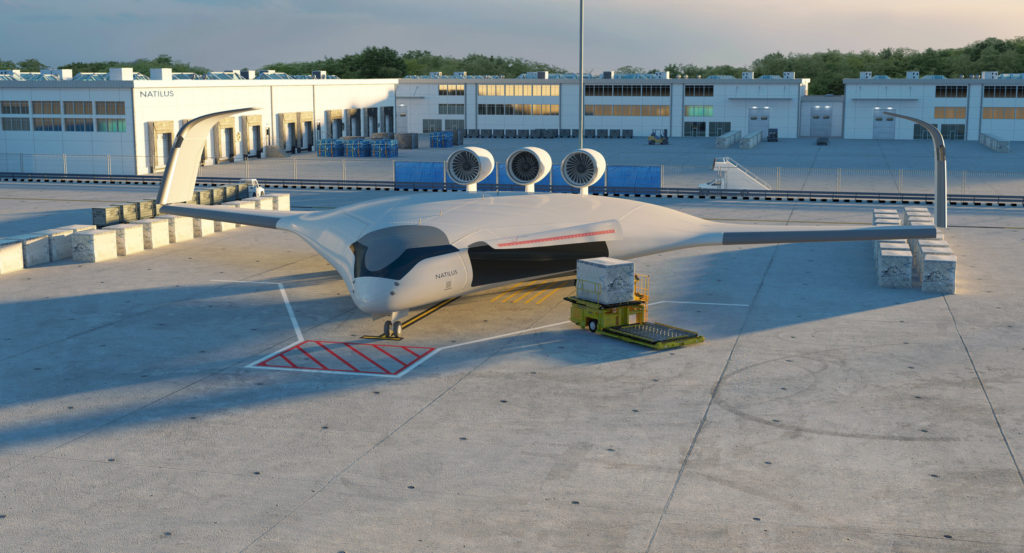 Aleksey Matyushev is the co-founder and CEO of Natilus, a startup headquartered in San Francisco. Natilus has set out to reduce global air freight costs through the use of large autonomous drones, and has moved quickly over the last couple of years to develop a sea-plane prototype to serve as a technology demonstrator.
The engineers at Natilus are now moving ahead at full steam to design a land-based freighter drone based on a blended-wing body. As the name suggests, a blended aircraft has no clear demarcation line between wings and fuselage. Advantages of this approach are efficient lift generation aided by the wide airfoil-shaped body, allowing the entire aircraft to generate lift. This means that a blended wing body has better lift-to-drag ratios than a conventional aircraft, resulting in improved fuel efficiency. One particular challenge, however, is that a blended wing body does not feature a vertical and horizontal tail, and this makes controlling the aircraft particularly challenging. In this episode of the Aerospace Engineering Podcast, Aleksey and I talk about:
his educational journey to becoming an expert aerodynamicist
the technical details of the freighter drone Natilus is designing
Natilus' business model
and near-term developments that are in the pipeline
Last but not least, Natilus is currently hiring for a number of roles. So if you're interested in working for an innovative, fast-moving company, then head over to their website.
If you enjoy the Aerospace Engineering Podcast you can support it by leaving a review on iTunes or by supporting it directly on Patreon, where patrons of the podcast receive exclusive behind-the-scenes content and special episodes. Thanks a lot for listening!
Podcast: Play in new window | Download | Embed
Subscribe: Apple Podcasts | Stitcher | TuneIn | RSS
---
This episode of the Aerospace Engineering Podcast is brought to you by my patrons on Patreon. Patreon is a way for me to receive regular donations from listeners whenever I release a new episode, and with the help of these generous donors I have been able to pay for much of the expenses, hosting and travels costs that accrue in the production of this podcast. If you would like to support the podcast as a patron, then head over to my Patreon page. There are multiple levels of support, but anything from $1 an episode is highly appreciated. Thank you for your support!
This episode is also sponsored by StressEbook.com, which is an online hub for you if you are interested in aerospace stress engineering. StressEbook.com provides world-class engineering services and online courses on the stress analysis of aircraft structures, as well as a free ebook and blog. No matter if you're a junior or senior structural analyst, stressEbook.com provides you with the skills and know-how to become a champion in your workplace.
---
Selected Links from the Episode
Related Posts