The Razer Huntsman V2 TKL offers everything you'd expect from a Razer gaming keyboard in a tiny package. However, it's not alone: more and more small keyboards are coming out, eschewing additional buttons and LED indicators for a more stripped-down approach.
But, while competition is stiff, the tiny Razer Huntsman V2 TKL is more than capable of meeting most gamers' needs. It's about as speedy as any other keyboard out there and also built as tough. And despite its small size, it's surprisingly packed with most of the necessary gamer-centric features you'd expect. The keyboard features fully programmable keys, adjustable performance options, on-the-fly Macro recording and all the RGB customization you could want.
With all the Razer Huntsman V2 TKL has going for it, it's no surprise that it's not cheap. At $160 (£160, AU$260), it is definitely one of the more expensive gaming keyboards, regardless of form factor.
The Corsair K70 TKL, a solid alternative, is just a little cheaper at $140 (£140, AU$140), but you'll be missing out on the Razer's PBT double-shot keycaps unless you want to spend an extra $30 (£30, AU$30), at which point the Razer Huntsman V2 TKL is the better deal.
Of course, the Huntsman V2 TKL will also keep you tethered to your computer. So, if you're looking for something similarly fantastic that has wireless connectivity, consider the Logitech G915 TKL. However, it will cost you a bit more at $230 (£199, AU$380) and has a lower 1,000Hz polling rate.
The Razer Huntsman V2 TKL sticks closely to the Razer aesthetic and is obviously the little sibling of the Huntsman line. Except for the ESL edition that has yellow lines reminiscent of Cyberpunk 2077, this keyboard is completely black, from its matte black aluminum top plate, matte black PBT keycaps and matte black wrist rest to its braided black USB cable.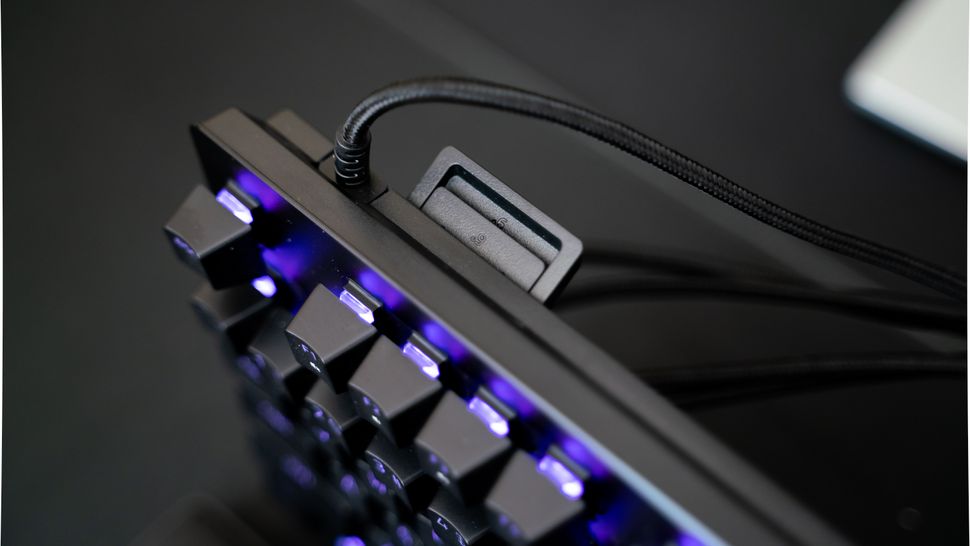 The muted aesthetic looks great and even if you're looking for a more colorful aesthetic, you can customize the RGB lighting that radiates through each individual keycap. You can also replace the keycaps with any standard sized set, but you'll have to purchase that separately.
Considering how much the Razer Huntsman V2 TKL costs, it had better be a premium keyboard. Thankfully, it is. The aluminum plate and thick plastic covering the bottom half of the keyboard can take plenty of abuse. And the PBT keycaps are not only incredibly rugged but also cover Razer's own linear optical switches, which have a lifespan of 100 million keystrokes. Add in the braided and detachable cable, and you'll be hard-pressed to do much damage to it.
Speaking of cables, we really appreciate the fact that it's removable. While Razer did it to make transporting the keyboard easier, it also means that you don't need to replace the Razer Huntsman V2 TKL cable if you damage it.
Like most high-end keyboards, the Huntsman V2 TKL comes with a wrist rest. It's a bit on the slim side, but it's still comfortable. We prefer a little more cushion but this one doesn't get uncomfortable during long gaming sessions.
The only real downside of this keyboard is that there are some key functions missing due to its form factor. You will have to live without dedicated media keys or LED status indicators. While it is a small gripe, you can find other TKL keyboards out there that still manage to squeeze them in, such as the aforementioned Logitech.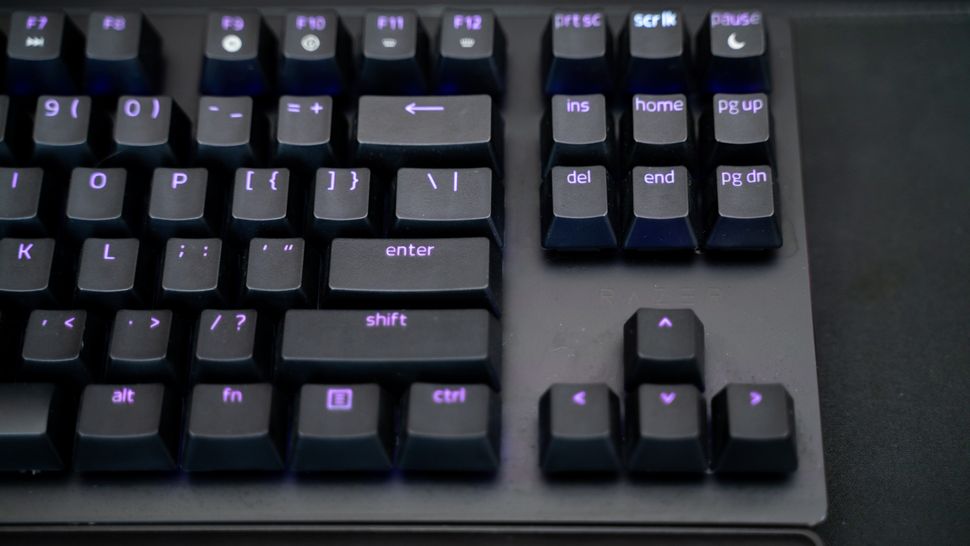 Luckily, this isn't a deal-breaker, especially considering how fast this keyboard is. Like Razer's other top keyboards, it boasts an adjustable polling rate of up to 8,000Hz. Razer's own 2nd-generation optical switches used here are so fast that they will register in 0.2ms, a response time that you'll have trouble finding elsewhere.
Playing Doom: Eternal with this keyboard is a unique experience. Instead of the typical button mashing when trying to kill or run away from demons, the amazingly fast response of the Huntsman has us slowing down on presses, using light, accurate presses to run around, shoot, and smash enemies. Its speed puts us much more in control of the action.
Besides their super-fast actuation, these switches are also particularly quiet, thanks to a layer of foam inside their casing that dampens the sound. If you've ever loved the feel and responsiveness of mechanical or optical keyboards but hated the click-clack noisiness of them, then the Huntsman V2 TKL will be perfect.
It should be noted that this keyboard comes in two variants when it comes to switches: red and purple. The red switches, tested here, are quieter and offer a smoother, less tactile response. If you prefer feeling and hearing your presses, the purple switches, which Razer describes as "clicky," will be the better fit for you. While we weren't able to compare the two, we appreciate the quieter performance of the reds.
Using the keyboard is a dream. The keycaps are textured for a nice, slip-free typing experience. Despite the smaller size of the keyboard, the keys don't feel crowded. And, the implementation of N-key rollover and anti-ghosting made for accurate and easy typing. Since it's quite a speedster as well with its high polling rate and fast actuation, it takes almost no effort to comfortably and quickly type or press.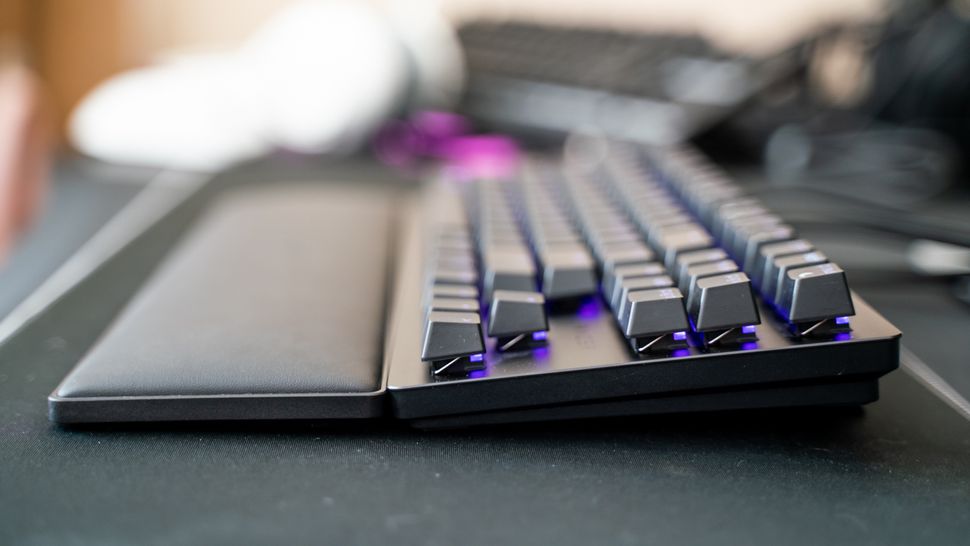 Though the Huntsman V2 TKL might seem light on features, it really isn't. It's fully programmable with on-the-fly Macro recording, has Hypershift capability that lets you have secondary functionality for every key on the keyboard and about as much RGB customization as a gamer could want.
Most of these features, outside of the on-the-fly recording, are accessible through Razer Synapse. There you can remap any key however you like including Hypershift functions, select from and finetune basic RGB presets, adjust polling rates and toggle a few other gaming-related settings.
It all works seamlessly except you have to install the ability to use macros into Razer Synapse before being able to use macros, even on-the-fly ones. Why it's not already included in the first place is a mystery. Another small quibble is that you can't record mouse movements for macros. At least you can create 5 onboard profiles that go wherever the keyboard goes.
If you're an RGB nut, you'll want to download and use the Razer Chroma app to truly fine-tune it. You can have multiple different effects running at the same time, not to mention the ability to customize each individual key. You'll have as much control of the lighting as you could want. 
Should I buy the Razer Huntsman V2 TKL?
 Buy it if… 
Don't buy it if…